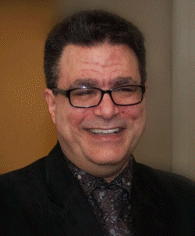 Nathaniel Borenstein
Nathaniel Borenstein is a leading Internet innovator since 1980. He is one of the primary authors of the MIME standard and the metamail and Andrew Message System software.  He co-founded multiple startups, including First Virtual Holdings and NetPos.com. He has also been in charge of the research program for IBM's Lotus division, and has taught at Carnegie Mellon University, Grinnell College, and the University of Michigan.   He is currently Chief Scientist for Mimecast.  You can learn more about him here.
He is also severely color-blind, but recently the latest generation of analog color-correcting glasses  augmented his color vision enough to change his entire world view.   Subsequently,  he has been inspired to use his technology expertise and industry relationships to start the AmplifEye project, with the ultimate goal of producing a new generation of digital color-correcting glasses, which will not only give more colors to the color blind, but will eventually allow anyone to perceive infrared, ultraviolet, and anything else a digital camera can image.
Tom Neuendorffer
Tom Neuendorffer has made major contributions to businesses and academia, beginning with his work developing the Andrew system at Carnegie Mellon. There he published papers, pioneered GUI interface builder systems, chaired two conferences, worked on real-time multimedia synchronization and developed the first playable musical instrument ever to be sent via e-mail. 
In the private sector he has designed and implemented complex systems for startups since the easiest days of the Web. He was Chief Scientist of one the Web's first personal finance sites which he saw through its acquisition by Intuit in 1996. In other positions his been awarded two patents and developed multi-tier applications for the Web, Smart Phones, and the Amazon Cloud. He also plays a number of instruments and has co-authored several papers in the field of computer music.
Lea Grover
Lea Grover is a writer and visual artist, with a dusty degree in Public Administration. She writes about 21st century feminist parenting, life with cancer, and vegetarian cooking on her blog, Becoming SuperMommy.  Her work has been featured on the Huffington Post, the Chicago Tribune, and the Daily Mail, and can be found in the anthologies "My Other Ex: Women's True Stories of Leaving and Losing Friends," "Motherhood: May Cause Drowsiness," "Discovering True: The #NoMoreShame Anthology Volume 1," and "Listen To Your Mother: What She Said Then, What We're Saying Now." She's looking forward to the upcoming publication of her memoir, and in the meantime speaks publicly about Sex Positive Parenting, and as a member of the RAINN Speakers Bureau.
 
Jason Borenstein
Jason Borenstein is Business Analyst with a technical background. He previously managed the daily operations of the largest VMware ESX farm in the world, at one of the world's largest financial institutions. As a contractor, he built and deployed enterprise infrastructure to support the growing needs of merging financial institutions. He also worked for Infor Global Solutions for over 13 years supporting their international ERP and CRM software customers. Jason also owns and operates multiple websites.
Phil Forsyth
Phil Forsyth is a film maker, musician, playwright, novelist, editor, illustrator, graphic designer and all around nice guy. He currently resides in Kalamazoo, MI living off the spoils of his days as a swashbuckler on the high seas. He still hears the sirens' song on lonely nights.
Credits/Acknowledgements
Please tell me if I've left anyone off this list, that is not my intention.
Thanks to all the volunteers who have helped in this project, including Lynn Anderson, Trish Fitzgibbons Anderson, Ruth Armitage, Phil Bane, Emile Bernoux, David Bloom, Jason Borenstein, Seth Borenstein, Trina Borenstein, Steve Clark, Marcus Dillon, Steve Eberbach, Ev Ehrlich, Phil Forsyth, Barry Gill, Bob Glickstein,  Ezra Graziano, Bob Greenberg , Lea Grover, Keith Harder, Maggi Rohde Idzikowski, Tom Kalil, Kirk Kitchen, Michael Margolis, Janus Maybee, Dan McCarthy, Molly McWilliams, Mike Nelson, Justin Pirie, Dan Pritts, Jill Pritts, Matt Ravden, Joe Sanders, Seth Schechter, Lee Stein, Samantha Stone,  Nicole Sylianteng, and Doug van Houweling.
Thanks also to the businesses that let us film video on their premises: Chelsea Flower Shop, Four Directions, Hiller's Grocery Kilwin's Candy, Ten Thousand Villages, and Vault of Midnight.
Thanks also the artists who have contributed work for our premium book (link) this list is very incomplete Paul Volker, Julianne Brand, Ian Bull, Ann Poor Cary, David Feigenbaum, Justine Harari, Scott Loftessness, Sei Takeguchi, and Sheldon Tapley.